Providing high quality care for a brighter tomorrow
Sunlight Care Group, 2020
Welcome to the Sunlight Group
Here at the Sunlight Group we place the customer and the community in which they live, at the heart of everything we do. Our person-centred approach allows us to deliver personalised services that are carefully tailored to best meet the needs of our customers.
​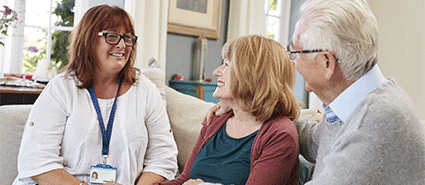 Care at Home
​
Sunlight Care takes pride in helping people live independently in their own home. The team can help you tailor a plan from as little as 30 minutes a week. If your needs change over time we can review your plan at anytime, giving you peace of mind whenever you need it. The Sunlight Group is recognised as a 'Good' Provider by the Care Quality Commission (CQC).
Mental Health Services
​
The Sunlight Group is aspiring to be the leading provider of Mental Health Services in East London. We are committed to raising awareness to help combat the stigma around mental health illness. All our staff are highly trained and available to support anyone in crisis providing a safe environment to discuss any thought and feeling they may be experiencing.

Youth, Children and Young People Services
​
Check out our suite of support services specifically designed to accommodate a wide rage of needs for youth's, children and young people. Information on Fostering and Adoption is also available in this section of the website.
Parental Support Services
​
The Safeguarding of children is fundamental to all of the services we offer and the Sunlight Group. We offer various support services to accommodate a wide range of needs, from becoming a new parent to supervised visits and counselling.
Supported Living Services
The Sunlight Group can provide supported living services to enable individuals with a disability to live independently in their own home, with support to help them manage their own tenancy and achieve greater freedom and control in their lives.
Residential Care - Park View
​
Park View is a specialist Residential Care Home for individuals with learning disabilities. Our dedicated team are highly experienced providing both engaging and developmental activities to support the individual needs of each resident.
We are committed to 'Driving Up Quality'
The Sunlight Group is committed to and actively working towards the 'Driving Up Quality Code' to
best support people with Learning Disabilities.
​
Through our transparent approach we aim to achieve the following:
​
Drive up quality in services for people with learning disabilities that goes beyond minimum standards

Create and build a passion in the learning disability sector to provide high quality, values-led services

Provide a clear message to the sector and the wider population about what is and what is not acceptable practice

Promote a culture of openness and honesty in organisations

Promote the celebration and sharing of the good work that is already out there.
​
of 1,000
Over
Mental Health First Aid
Awareness courses delivered in 2020
Customer satisfaction
rating from
our customers
Hours of care provided
in the community
Mohamed A - 24 February 2020
Agnus H - 04 January 2020
"When moving my father's care to the Sunlight Care Group they made it so easy. The focus was to provide only the essential day to day support so my father could keep as much independence as possible. We started with 30 minutes of domestic support three times a week. As my father's needs have changed, I have now included a daily care package giving me great peace of mind that my father is in safe hands."
"Thank you all, for the daily support you provide me. Everyone always arrives with a smile and no request is ever too much. It is so nice to be able to talk to people that are genuinely interested in what you have to say.
It has not been the easiest year after losing Bill and I can't thank you enough for everything you have done."